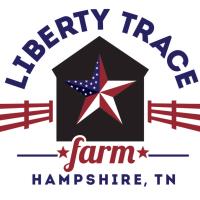 Liberty Trace Farm
Contact: Kevin & Mikki Krause
Address: 4447 Dry Fork Rd Dry Fork Rd Hampshire, TN, 38461
Email Address: kevinkrausetn@gmail.com
Phone: 850-240-9946
About Us
Welcome to Liberty Trace Farm where we produce food worth eating.  We're located 1 mile west of Hampshire, TN.  We raise cattle, hogs, turkeys, chickens, and eggs.
We sell products at the Columbia, TN Farmers' Market, through local stores, and through Nashville Grown.  
Practices
We practice sustainable farming methods modeled after Joel Salatin of Polyface Farm. We raise our animals in forest and on pasture with plenty of sunshine, clean water, and regular rotations to fresh ground. Cattle are strictly grass/forage fed (hay and alfalfa pellets as required during winter). Hogs, chickens, and turkeys are supplemented with Non-GMO feeds. We DO NOT use GMOs, herbicides, pesticides, antibiotics, or added hormones.